"The more time we spend in Morzine the more we want to be here, so building our own chalet was a natural step."
The owners of Chalet Tataali wanted to build the perfect base to bring their extended family together for ski trips, and also to enjoy the Alps in the summer.
We've been coming to the Alps for many years and decided to start our own project about 5 years ago. It's a natural step for us as my wife is an architect, we have experience of developing properties and we love to have somewhere where we can bring the extended family together under one roof.
It took us some time to find our ideal spot. We looked at several locations across Les Gets and Morzine, both existing buildings and land plots. Having spent many happy ski weeks (and time in summer) at Chalet Twenty26 we always had a preference for Vallée de la Manche but despite years of looking we were unable to find the right spot. Then about two and a half years ago my brother, who was visiting Morzine, called me to say he had found the perfect spot just a stone's throw from Twenty26. Once we visited we knew the site was just right, with stunning valley and forest views with the River Dranse sweeping by just metres below the site.
We have a large extended family and get together on a regular basis. We already have a house on the coast in Southwest France and this has really helped bringing everyone together during the summer months. We wanted to try and replicate this in the mountains primarily for winter ski trips but also to enjoy the Alps in the summer.
My wife's philosophy for a house is that it should be fun so that's always our starting point and we've tried to add lots of fun features around the chalet. I must give all the credit for the slide to her — she is a devotee — we have a slide in our house in Cap Ferret and it's great fun. For both children and adults.
The idea for the climbing wall came from our project manager, who assures me not to worry about any health and safety issues! I am really looking forward to trying this out. We have also added a pin wall and monkey bars in the playroom and there's table football and a pool table which should help keep everyone entertained.
In case you were wondering, the name "Tataali" is Arabic for "cascade" reflecting the cascading of the river which runs just a few metres below the chalet and can be heard from most of our rooms, and also the fact the chalet cascades down the valley.
Our Exclusive Collection isn't just about world class properties, it's also about exceptional service. You will be looked after by a larger chalet team which also includes a Senior Host to support the Chalet Manager ensuring that a detailed and personal service can be provided. The chalets will typically be staffed throughout the day and you can expect the senior members of the team to have considerable experience.
An additional vehicle is provided at peak times, meaning that your whole group can travel at the same time, or even to separate locations if needed. This is an invaluable luxury for groups of 9 or more who would otherwise have to shuttle in a single vehicle.
In the kitchen our most senior chefs will be working to create exquisite menus tailored to your group. At this level we look for chefs to have a broad experience of catering, both in top restaurants but also private homes, villas, yachts and of course, luxury ski chalets. Alongside gourmet menus, you will also have access to an extended list of premium wines.
You will also receive a priority concierge service ahead of your stay and a personalised welcome pack at the start of what we aim to be, your dream ski holiday.
Main entrance (E)
Garage (G) with electric vehicle charging point (room for one vehicle)
Boot room with boot warmers (BR)
Bedroom 6. King-size bed with en suite shower room (bed does not split)
Bedroom 7. Master bedroom. King-size/twin bed with dressing room, walk-in wardrobe and en suite bathroom
Slide from entrance hallway down two floors into games room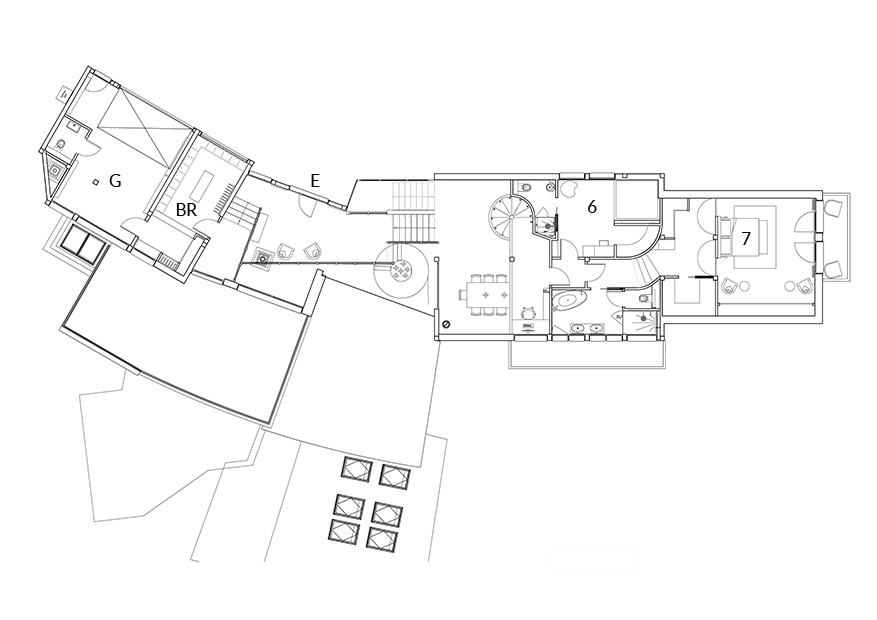 Cinema room (C)
Pool table
Living room (L)
Bar (B)
Wine cellar (W)
Dining room leading onto balcony (D)
Open kitchen with breakfast bar
Terrace/balcony (T)
Garage with electric vehicle charging point and space for 3 vehicles (G)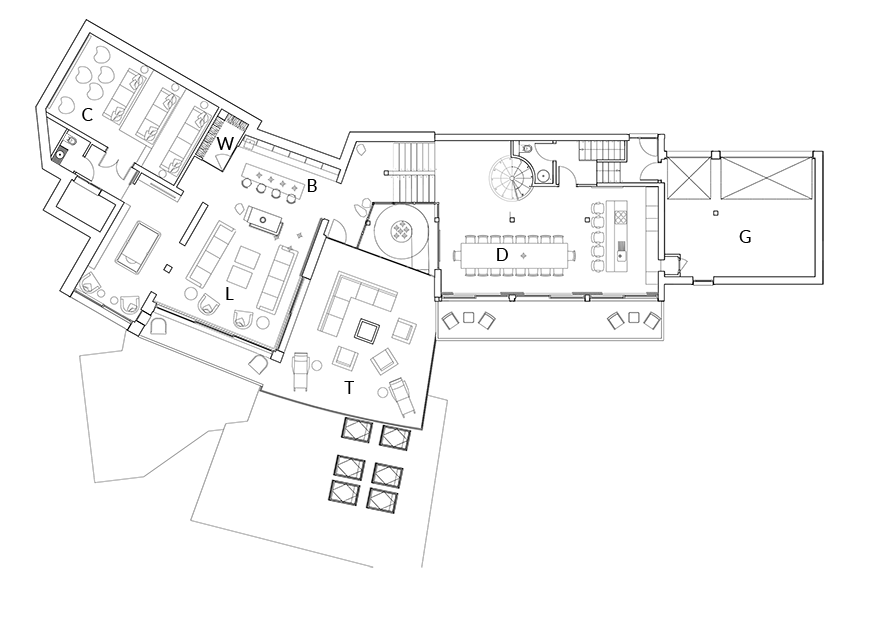 Bedroom 1. Bunk room for two children with climbing wall
Bedroom 2. King-size/twin bed with en suite bathroom and access to terrace
Bedroom 3. King-size/twin bed with large dressing room, en suite bathroom and access to terrace
Bedroom 4. King-size/twin bed with en suite shower room and access to shared balcony
Bedroom 5. King-size/twin bed with en suite shower room, walk-in wardrobe and access to shared balcony
Games room with large TV, games console and monkey bars on ceiling (G)
Commercial kitchen (K)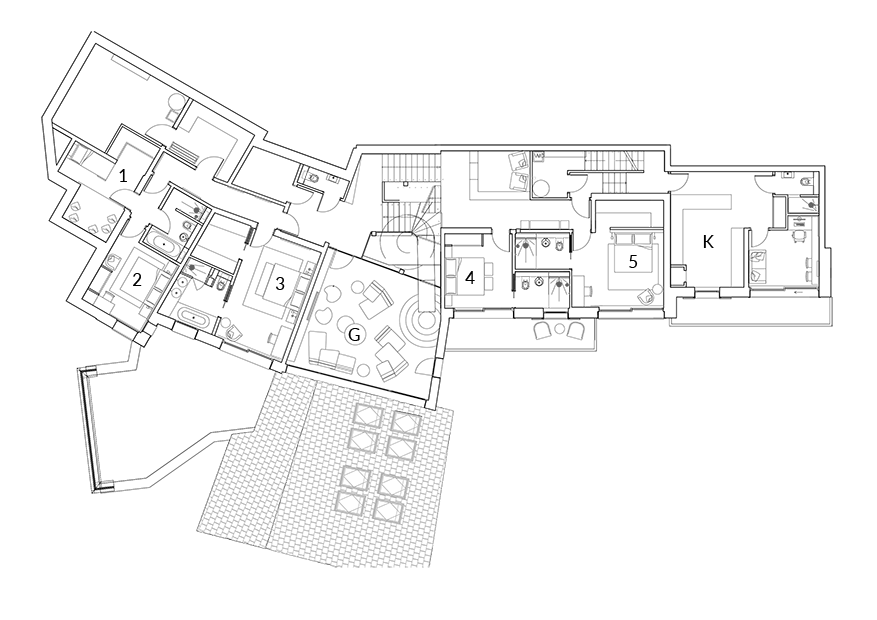 Hammam (H)
Gym (G)
Sauna (S)
Pool (P)
Outdoor hot tub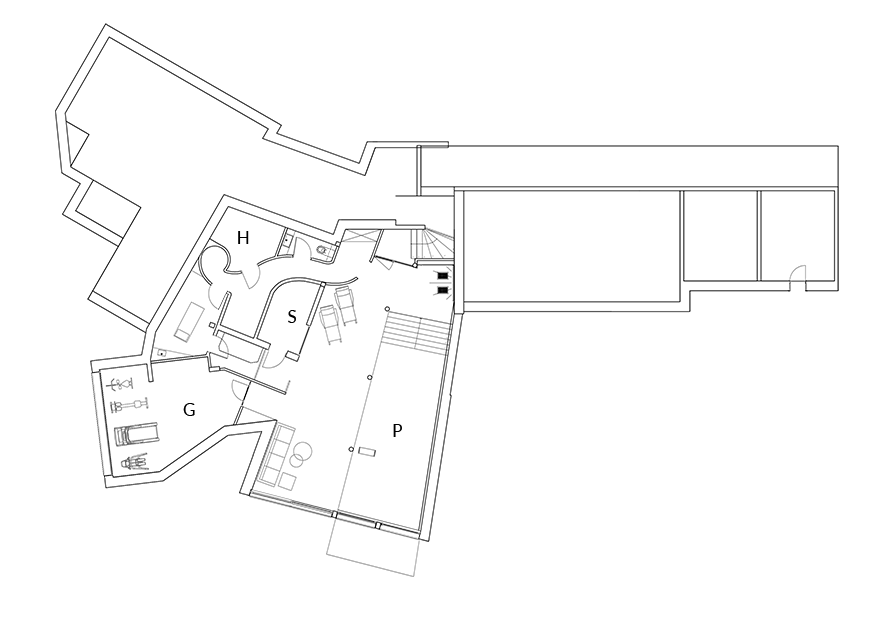 Chalet Tataali has an idyllic location between the centre of town and the beautiful nature reserves of the Vallée de la Manche.
In favourable conditions, intermediate skiers can ski from the property to the nearby cross country trail which leads to the Nyon lift.
The nearest ski lift is just 500m away taking less than a minute in the chauffeured vehicle, and the centre of town is only a few minutes further. Those who prefer to stretch their legs can walk to the town centre via a groomed riverside path that meanders through the trees.
The high-altitude skiing of Avoriaz is best accessed from the Prodains Telepherique which is less than a 5 minute drive from the chalet.
Our Exclusive Collection service plan is a truly indulgent offering with the experience being akin to staying in a luxury hotel and dining out at your favourite restaurant. Your team will typically be made up of our most experienced staff and will include a highly trained professional Chef, a House Manager and several Hosts. The Manager and Hosts will lead most aspects of service during your stay, leaving you to sit back and simply enjoy the comfort of your luxury property.
Dining is a major part of the experience and this is started each day with The Breakfast Club, our signature breakfast offering which takes inspiration from the best brunch spots in the city. Access to the lifts and other resort facilities is simple with a private driving service being provided by your team. When you return from the slopes you'll be able to enjoy afternoon tea and later canapes are served to kick off the evening. A dining plan will be discussed and tailored for your group ahead of your stay but typically we would recommend a mixture of elaborate and more relaxed evenings during the week. You can also choose to experience Kaiseki, our press-acclaimed Japanese fine dining menu.
A comprehensive drinks selection including a house Champagne, at least 10 house wines, artisan beers and speciality gins are also there for you to enjoy throughout your stay.
STAFFING & SERVICE
Professional and highly experienced team which will typically include a House Manager, professional Chef, Assistant Manager and four chalet Hosts
Driving service in luxury vehicle(s) from 08:00 to 22:30 every day, with two vehicles provided during peak hours if your group is more than 8 people1 – a later pick up can be arranged on the chef's nights off
Daily housekeeping and hosting service throughout your stay
Luxury bathroom products from Bamford
DINING
The Breakfast Club is our signature menu to start the day offering a selection of hot dishes and delicious continental options – breakfast is served every day2
Sweet and savoury tarts from an artisan pâtisserie served on your return to the chalet each day
Luxury dining from your professional Chef on 5 evenings which typically we would recommend includes3:

Kaiseki – our exquisite 6-course Japanese fine dining restaurant e